About the Synagogue
The name "Edmond J. Safra" is synonymous with philanthropy and benevolence. A Lebanese-born Jew who rose to prominence in the banking industry, Mr. Safra supported a remarkable diversity of institutions and charities during his lifetime. While his legacy of giving affected Jewish communities worldwide, his generosity may have had its greatest impact on the various Sephardic Jewish communities in the United States and abroad. An example of how Mr. Safra's policy of supporting new Jewish institutions continues even after his untimely death can be found in the Edmond J. Safra Synagogue.
During his lifetime, Mr. Safra was often in New York City and spent many Shabbatoth in Manhattan. Noting the absence of a formal synagogue and communal center for the Sephardim of the Upper East Side of Manhattan, Mr. Safra expressed a desire to build a central house of worship in the area. As was his practice, he undertook to move this idea from a vision to a reality. Through the dedication and efforts of his wife, Mrs. Lily Safra, and a team of skilled artisans, the synagogue was completed in December 2002. Dignitaries including the Chief Rabbi of Israel and Mayor Michael Bloomberg attended an official inauguration of the building. Praise for the edifice was exceeded only by praise for the man who foresaw it and his wife who completed it.
Since opening its doors in March, 2003, the Edmond J. Safra Synagogue has become the communal center that its namesake imagined it would. The synagogue offers regular religious services including daily minyanim, daily & nightly learning programs, liturgy studies and daily tehillim readings. Moreover, the synagogue has become a prominent social, cultural and educational center having hosted conferences and lectures, parenting and cooking classes, singles' events, children's programs and a variety of cultural and educational events.
The Edmond J. Safra Synagogue is well-located on the Upper East Side of Manhattan at 11 East 63rd Street between Madison and Fifth Avenues and regularly hosts guests from around the world. The congregation is comprised of many families from a medley of Middle Eastern backgrounds and it is prepared to welcome all those interested in worshipping with this new, vibrant Jewish community.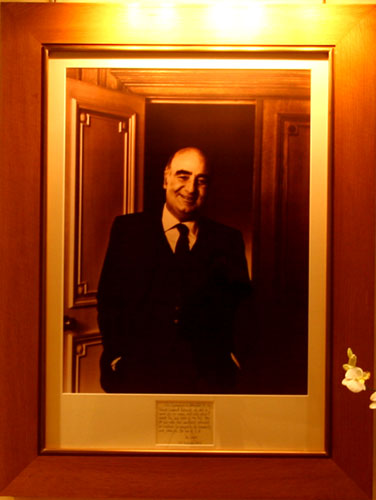 Nov 29 2023
Kislev 16 5784